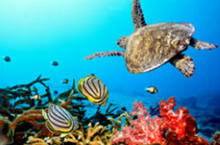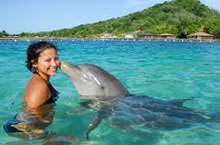 Snorkeling is amazing right off the beach from West Bay or West End. The reef is close in and at the eastern end of West Bay beach the reef practically meets the shore and an easy swim provides for an array of brilliantly colored fish and swaying coral. For those that have their own equipment the snorkeling is free. For those that wish to rent their equipment, you can find rental gear for approximately $10.00 per day. If you wish to rent gear only, please just give us a call or email.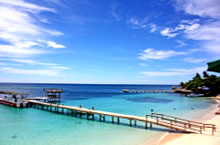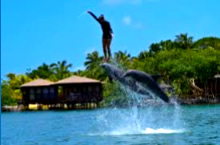 There are also snorkeling tours available by boat which provide for a even greater opportunity to visit the outer coral reefs and other less frequented, secret spots.
Snorkeling by Boat
Included is all gear: Mask, Snorkel, Fins & Life Jacket
Meet at West Bay and take the boat to the outer reefs at West Bay– approximately 1 hour
Boat Ride to see the Sea Stars & enjoy an Dolphin Encounter where you will learn from their trainers all the wonderful aspects of these friendly mammals and interact with them by touching them and playing with them.
Total Tour is Approx. 2 1/2 hours
Price: $30.00 per person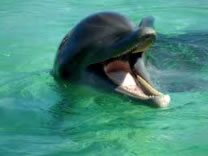 Snorkel/Swim with Dolphins

Dolphin Encounter – Learn from the Trainers!
Learn about these amazing mammals, their behaviors & how they communicate. Touch, play with them, and even give one a kiss (if you'd like!)
Following the 30 minute dolphin encounter, swim and Snorkel along side the dolphins within a 2 acre natural sea enclosure. This is a close hand swim/snorkel directly with the dolphins in their own habitat. A joyous experience you will likely never forget!
All gear included.
Includes Roundtrip Transportation from West Bay or West End
Total Tour is Approx. 2 hours
Price : $124.00 per person